About the Artist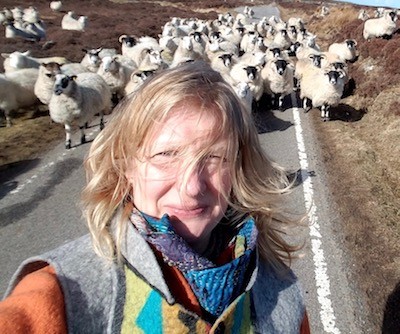 I remember talking with a dear friend of mine when I was just learning how to make felt, wondering what my thing was going to be. I wanted to create with my hands and make beauty in the world (growing up I never learned create with my hands). At the time of talking with my friend I was living with my grandmother and making felt in my spare time in her basement. Little did I know my thing was right under my nose.
I thankfully continued to follow my curiosity for felt, opening a studio in Duluth and teaching classes, reading everything I could about life and culture surrounding felt-making, and eventually this led me to Kyrgyzstan on three different trips to live and study. My time in Kyrgyzstan has had a strong impact on my work and in the course of my trips and time dedicated to this craft I have completely fallen in love with wool, sheep, and the ways of life that surround felt-making, particularly in Central Asia. It all feels so deeply familiar.
And though there are many varied (and strange!) things you can make with felt, rugs have been my constant throughout. I especially enjoy creating felt rugs in community. I love honing my craft and working through ideas alone in my studio, but nothing lights me up like when I've had the opportunity to make felt in community. Working with many people to create something that no one of us can do alone has a special magic.
I now live and work out of my home on the North Shore of Lake Superior in Grand Marais, MN. Having grown up in Duluth, MN it feels so good to be living on the big lake again. The lake has always brought me such a sense of peace and wonder in the world and my hope with the felt I create and the classes I teach is to continue sharing that sense of peace, beauty, and possibility in life.




Sheep! Shetland Islands, 2018