Norwegian Wool for Sale
Please send me an email if you are interested in buying C1-Pelssau batting. The wool is $3 per ounce. I can accept checks and credit cards.


otlakfeltstudio@gmail.com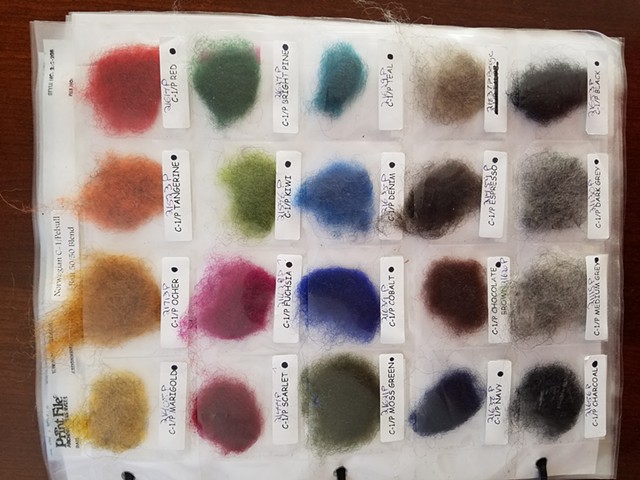 I carry a blend of wool from Norway called C1/Pelssau. It is an excellent blend, created by felt-maker Karin Svarstad and made at the HIFA factory in Norway, a 5th generation family run mill North of Bergen.
This information on the wool is listed from norwegainwool.co.uk A store in Britain who also sells C1/Pelssau.
Pelssau (Pels) is a breed that originated from Gotland sheep and was crossbred with the native Norwegian Spæl sheep. This ancient breed of sheep from Norway has a double coat, with a long outer coat and an inner of short, fine fibers. Pelssau is an extremely fast-felting wool that is softer than C1 and felts like Gotland. The dark grey fibers of Pelssau blended with white C1 produces a richer colour when over-dyed. It is very suitable for felt hats, figures and many other products.
Norilia, Norway's wool marketing organisation, designates the quality description C1 as white, crossbred wool, grown outdoors and shorn in Autumn. "Crossbred" is a breed reared in Norway, being approximately 80 percent Norwegian Dala with the other 20 percent made up of Cheviot, Steigar and Rygja. The class C1 is soft, crimpy wool with high bulk. The fibres should be longer than 70 mm and finer than 38 microns. Good whiteness after scouring is demanded. C1 is particularly renowned for its strength, gloss, elasticity, resistance to wear and lasting appearance even after long-term use and wash. It also is regarded as 'clean' and having good colour, as the sheep are reared in a clean environment. This makes it excellent for dyeing.
C1 is perfect to use for felts that must be durable, non-pilling and still look great with long-term wear and heavy use. It is excellent for moulding, needle felting and spinning. C1 wet felts similarly to Corriedale wool.